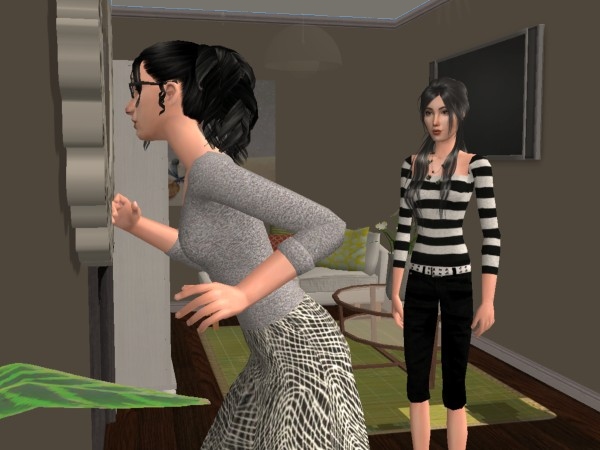 Natalie watched as her mother anxiously flitted back and forth across the house, fidgeting with her hair or her clothes and repeatedly checking her appearance in the mirror.
She walked up behind her mother and looked over her shoulder into the mirror. "Relax, Mom. You look great."
Reese smiled at her daughter. "Thanks."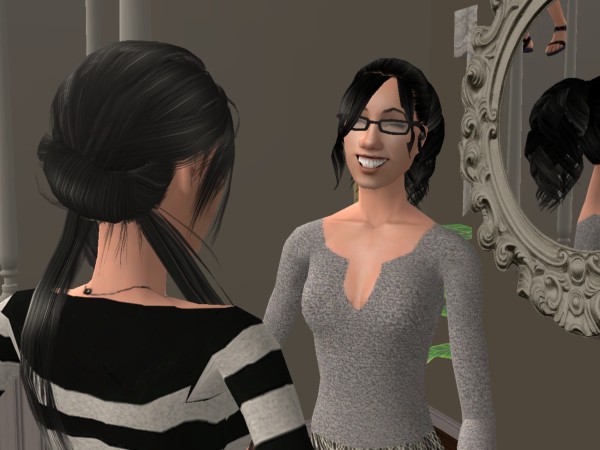 "Why are you so nervous tonight? You and Simon have gone out a hundred times and you've never been so jittery like this before. You're like a teenager going on their first date."
"I know. I'll try to settle down," Reese replied. She hesitated before saying more, wondering how much she should share with her daughter. After a moment's thought, she decided to open up about why she was acting so differently. "I'm a little nervous because Simon told me that he wants to ask me about something important tonight. That's why I seem out of sorts."
"Something important like what? Do you think he's going to ask you to marry him?"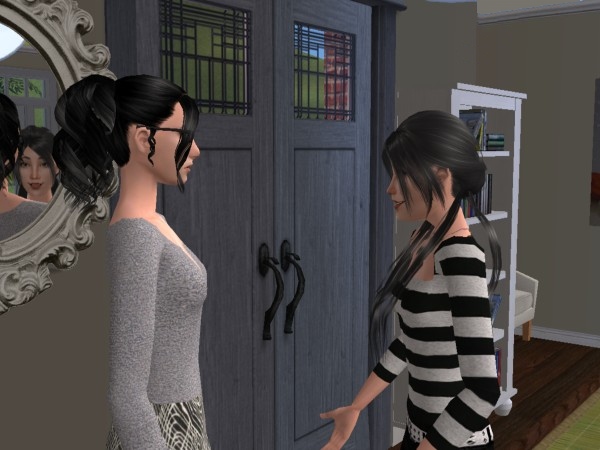 Again, Reese hesitated. That was what she thought, but she didn't want to say so without being sure. "What would you think if he did?"
"I think it would be great . . . if that's what you want. You've been on your own for a long time and you deserve to be with someone that makes you happy."
"Well, I'm not even sure if that's what he's planning on asking me. He could just want some legal advice."
Natalie frowned and gave her mother a doubtful look. She wasn't buying that explanation.
Their conversation was interrupted by a knock on the door. As Reese went to answer it, Natalie called after her, "If he does ask, tell him I give you my blessing."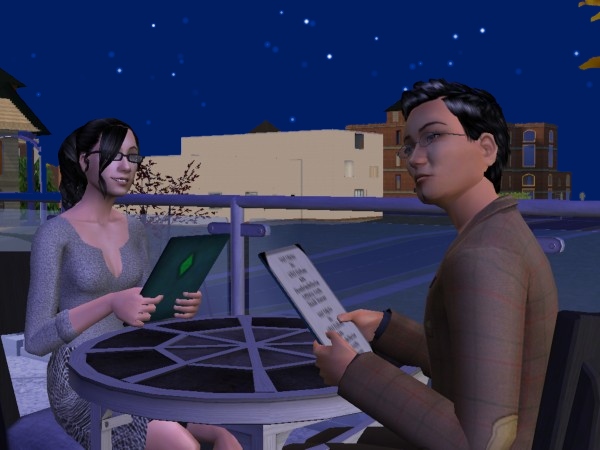 They began dinner with small talk about their days and how things were going at their offices. Reese's mind was preoccupied and less involved in the conversation than usual and it showed.
"Is everything alright, Reese? You've been extra quiet tonight."
"I'm sorry. I'm fine. I just keep thinking . . . you said there was something important you wanted to ask me."
"And you can't take the suspense any longer?" he grinned. "Yes, there is something very important I wanted to ask you about. Two things really and now is as good a time as any." He paused to clear his throat. "You know I've been working periodically at the main branch of my company."
"Yes."
"Mr. Arrendale contacted me recently and offered me a full time position at the office in Bay Pointe, plus the chance to buy a house in Arrendale Heights."
Reese's complexion paled and her mouth suddenly felt dry, but she managed to squeak out, "Oh? That's great."
Simon was thrown off guard, not sure what to make of her response, but he kept talking. "I, uh, know it's far to move, but I'd want you to go with me. Since we met, I can't imagine my life without you in it. We're so like minded, it's like we're perfectly matched. Whenever we're together, I'm happier than I've ever been. And I'm babbling. Can you tell I'm nervous? So my two questions are, will you marry me and would you want to move to Bay Pointe with me?"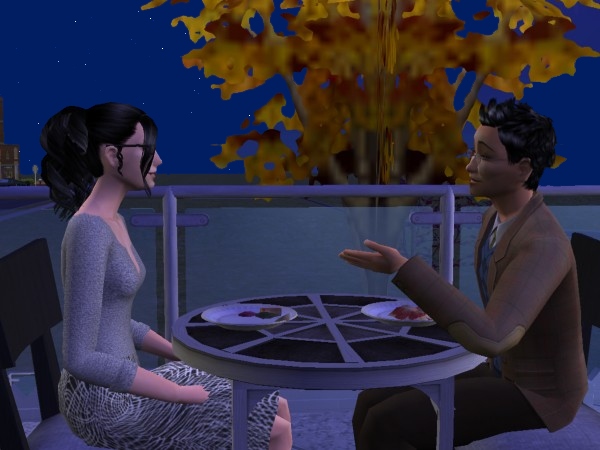 Reese was struck speechless. She wasn't sure what to say. "Wow, this is . . . a lot to take in at once. I don't know where to start."
"I'm sorry. I can understand how this might be overwhelming. The offer from my job just came up, but I've been thinking about proposing to you for a long time," he said, his expression turning dreamy. "I don't want you to think the two questions are dependent on each other. They don't have to be both yes or both no. Let me just start with this, the most important of the two." He reached into his jacket pocket and pulled out a ring box. "Will you marry me?"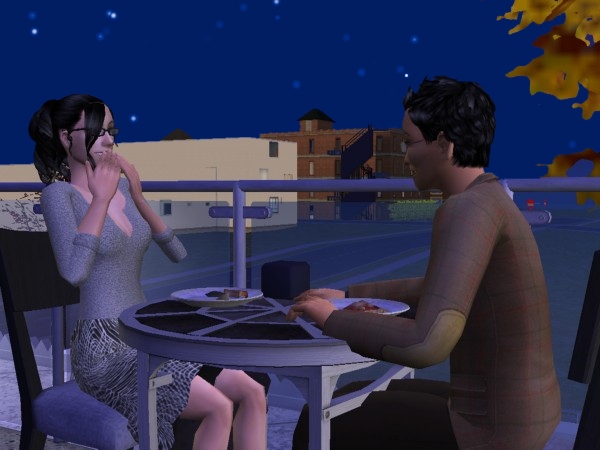 Reese breathed a sigh of relief. That was actually the easier of the two questions and the one that she was prepared to answer. "Yes, yes I'll marry you." As nervous as she was, she couldn't help beaming from ear to ear.
He smiled back at her, elated and relieved. "I've been thinking about proposing for awhile, but this job opportunity just gave me that little push I'd been needing." When her smile faded and a concerned look passed across her face again, he asked, "It's the move that has you uncertain, isn't it?"
She nodded. "Maybe we should go somewhere more private to talk about it."
Once they had finished dinner and paid the bill, they decided to take a walk around the city. When they found a quiet park bench next to a fountain, they decided to sit down and talk.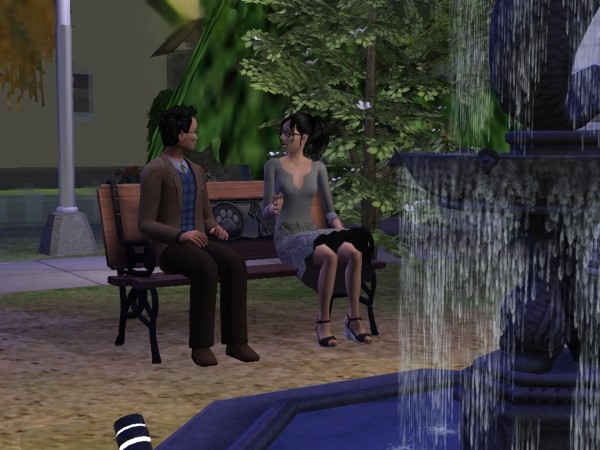 "I never really told you about my life before I moved here, about why I left Bay Pointe," Reese began, slowly and deliberately choosing her words.
"You never seemed like you wanted to talk about it."
"When I moved away from Bay Pointe, I wanted to leave the past behind and start over anew."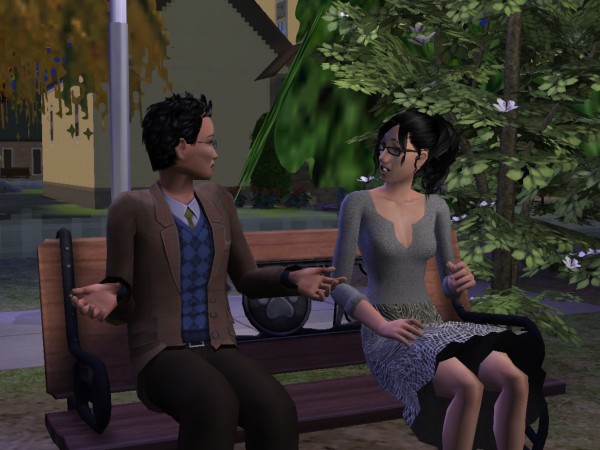 "Are your memories of that town so bad? Did something happen while you lived there?"
"No. There are some bad memories, but most of the time I spent there was good. But moving back there, especially to Arrendale Heights . . . Natalie's father lives in Arrendale Heights."
Simon looked concerned. "Is it that you still have feelings for him?"
"No," Reese answered surely. "It's not that at all. The truth is . . . I never told him about Natalie. He never knew that I was pregnant. I found out that I was after we broke up and at first I wasn't planning on keeping her. I was going to give her up for adoption, but obviously, plans changed."
"But you still didn't tell him?"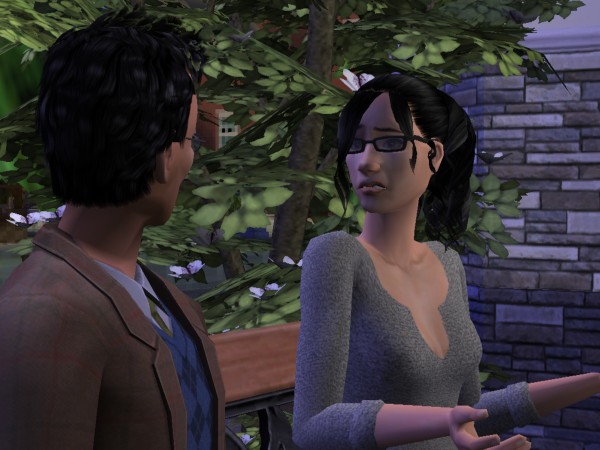 "I almost did. When Natalie was about to be released from the hospital after she was born, I found him and I was going to tell him, but I saw him with someone else, another girl he just started dating, and I backed out," she explained. "I thought about telling him so many times over the years, but then I found out that he got married and had kids. I just couldn't bring myself to get in contact with him."
"Even if he moved on with someone else, don't you think he deserved to know? Telling him wouldn't mean you'd have to get back together, but having a kid . . . it's something a guy should know, even if he doesn't particularly want to have one. If it were me, I'd still want to know."
"The irony is he did want to get married and start a family. I didn't. I didn't think I was ready for that yet and that's why we broke up."
"Then why didn't you tell him? It sounds like he was willing to be a father. He could have helped you and Natalie all these years."
"I know . . . it was a couple of things holding me back. I didn't want to show up and interfere with his new family and relationship. I wouldn't have minded having him in our lives, especially Natalie's life, but I didn't want her in our lives."
"Why? Because of her specifically or just because she was the other woman?"
"Her specifically."
"You didn't like her?"
Reese pursed her lips as she decided how to answer. "It's not really a matter of liking or not liking. She's just . . . kind of odd. She had her sights on Blaine the entire time we were together. She would have seen Natalie as a threat to their relationship. I didn't trust her. I still don't."
"Surely, that kind of thing would right itself out. Over time you all would have gotten used to the situation."
"Maybe, but her whole family is deranged. Her father was a criminal who tried to have me and Blaine, among others, killed because he thought we had crossed him. Her mother had been in a mental hospital and she ended up killing the father. I just thought it was better to keep Natalie and myself as far away from them as possible . . . but I did feel bad about keeping her from her father and him from her. He is a good guy. I'm sure he's a good father too."
"It's not too late, is it? Natalie may seem like an adult, but she's only fifteen. It's not too late for her to need her father. She's a very level headed girl. She won't let herself be drawn into any drama. We'll make sure of it."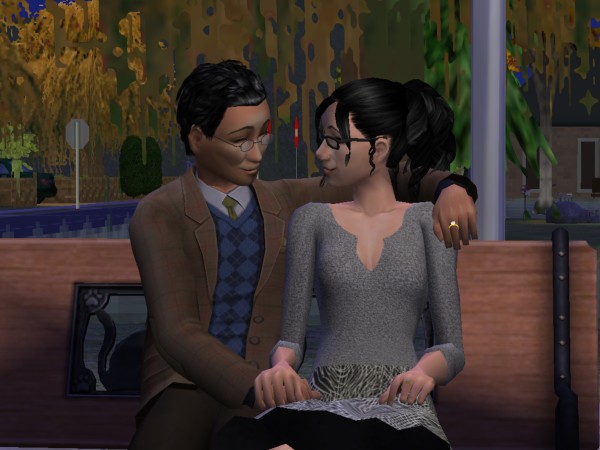 Reese nodded in agreement. "But you see why I hesitate to move to Arrendale Heights. I can't just move into their neighborhood without any warning . . . I should talk to Blaine, tell him before we decide to move in next door."
"Does that mean you are going to tell him?"
Reese hesitated, unable to bring herself to give a definite yes. "Maybe I should talk about it with Natalie first. She should have a say about whether she wants to meet her father or not."
"I don't want to rush you, but I have to make a decision about the job and the move pretty soon or they're going to give the opportunity to someone else . . . but whatever you choose to do, I'll go along with."
When they arrived back at Reese's house, Natalie was waiting up for them. "Hi," she greeted them, immediately checking her mother's left hand. Seeing the engagement ring there, she jumped up, and said. "Congratulations. I'm so happy for you both."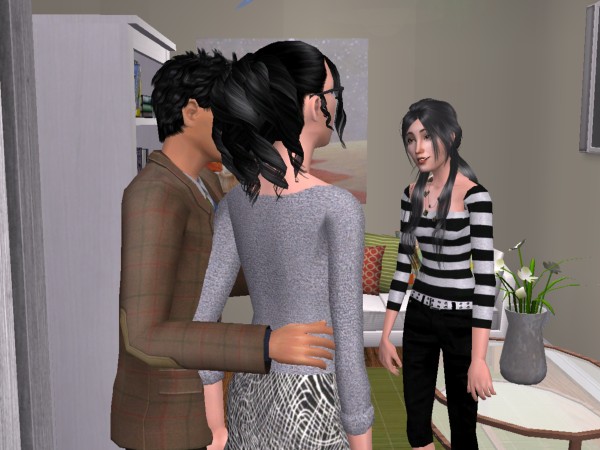 "I'm glad to hear it," Simon replied. "Are you sure you won't mind having me as a stepfather, then?"
"Not at all. I think it will be good."
"So do I. Well, I'd better go and let you two talk. Good night, ladies." He gave Reese a quick peck and headed out the door.
"Talk about what?" Natalie asked once she and her mother were alone. "We already talked about the engagement and I'm really okay with it."
"It's not that. Let's sit down," Reese said and led the way to the couch.
"What is it?" Natalie asked curiously.
"Simon didn't just ask me to marry him. He's been offered a job and a house in another town and asked if we would move with him. It would be a better job for him, a better neighborhood, and a great school for you."
"What did you say?"
"That I didn't know yet, that I'd have to think about it and that we would have to talk about it. What do you think about moving?"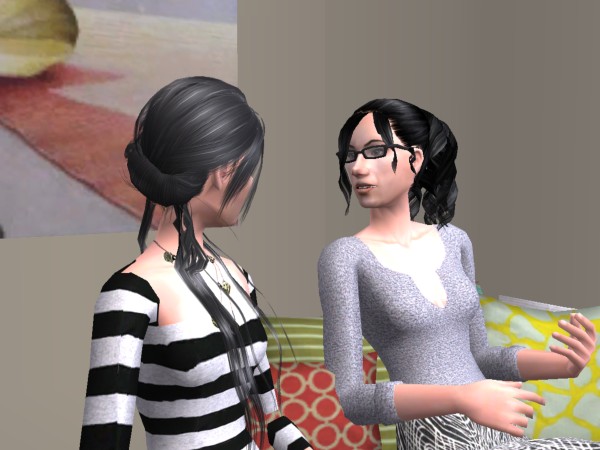 Natalie shrugged. "It would probably be okay, I guess." When Reese didn't respond right away, Natalie asked, "Was there anything else you wanted to talk about?"
"Yes . . . how would you feel about meeting your father?"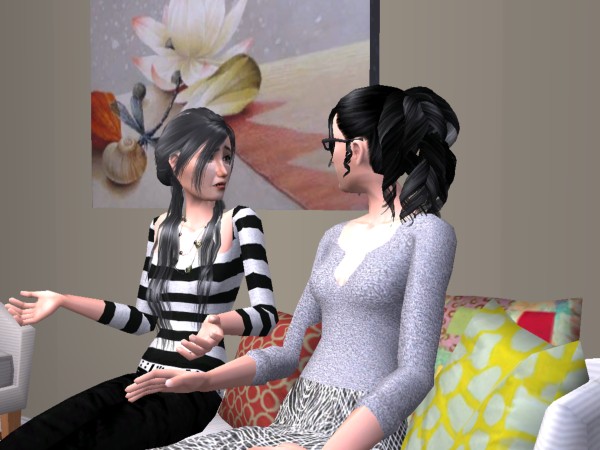 "What? Where did that come from?"
"He lives in the town, not just the town, but the neighborhood we might be moving to. If we moved there, we would probably run into him and his family."
"Oh."
"You don't have to make a decision about it tonight. There is sometime to think about it before we decide anything."
"Is my father . . . was he nice?" Natalie asked hesitantly. "He isn't somebody I wouldn't want to know, is he?"
Reese's heart sank. "No, he's a very nice man . . . I've actually felt guilty all these years for not giving you two the chance to meet each other. I didn't give either of you a choice in the matter and I should have."
"Oh, mom," Natalie said, seeing her mother's sadness and regret.
"It's up to you. If you want to meet him, I'll get in touch with him and we'll go from there. If not, either we won't make the move or maybe we'll find a different house near Bay Pointe that isn't so close to his." Reese started to stand. "When you've had a chance to think about it, let me know what you think."
"I don't have to think about it," Natalie said thoughtfully. "I think I'd like to meet him. I've always kind of wondered where I came from, the other side I mean."
Again, Reese felt a pang in her heart. Growing up in an orphanage never having known either of her parents, Reese knew from experience how her daughter felt. She hadn't wanted her to go through the same thing, but at least now she had a chance to make things right. "If you're sure that's what you want, we'll look him up. I don't think you'll be disappointed."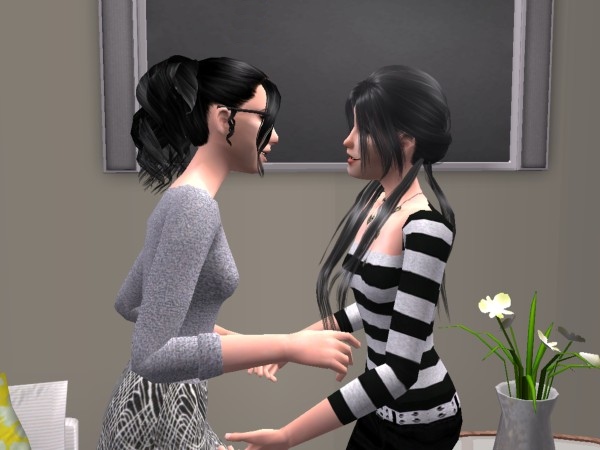 The next afternoon Reese looked up Blaine's number and worked up the nerve to call him. When the answering machine picked up, she was first thrown off guard and then relieved that she wasn't going to be speaking with him directly just yet.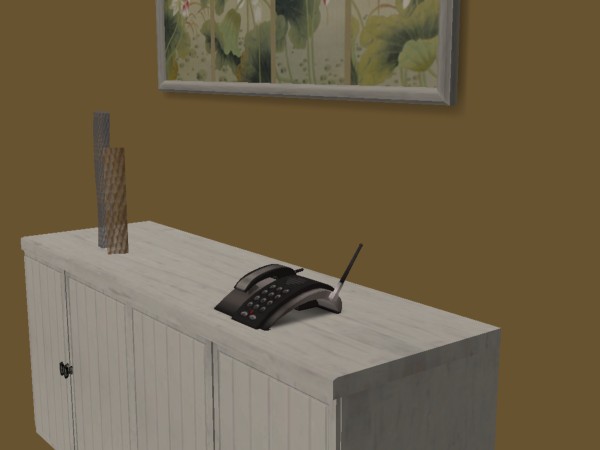 "Hi, Blaine. This is Reese . . . Burroughs. I know it's been a really long time and I'm sure you probably think it's a little strange that I should call you now, after all of these years, but I wanted to talk with you about something. It's kind of . . . well, actually, it's really important. I thought maybe we could meet some time or we could just speak over the phone if you prefer. If you could give me a call back, that would be great. Thanks."
After leaving her number she hung up the phone, feeling nervous, but glad she had made a real effort to contact him at last.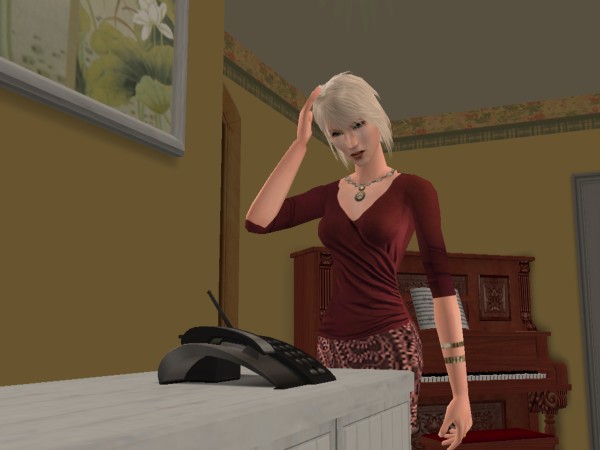 *Message deleted*